2021-2022 Season
Real People. Real Music.
A Season of Celebrations and New Journeys
Thanks to everyone who supported us, and enjoyed a return to in-person concerts!
New Directions, New Possibilities
Sunday, May 15, 2022 – The Lerner Theatre – 4 p.m.
Let's begin with some classics like Beethoven, then celebrate music in collaboration with local guest ensemble The Tumbleweed Jumpers! The season concludes with Ottorino Respighi's The Pines of Rome!
The Tumbleweed Jumpers are a high-energy, roots-based, Americana dance-rock band from Goshen, Indiana, with an ever-evolving lineup and genre-busting sounds.
New Adventures, Brahms and Video Games
Sunday, March 27, 2022 – The Lerner Theatre – 4 p.m.
Elkhart native, celebrated pianist, and Elkhart Central High School graduate Dr. Nicholas Roth will perform as a guest artist with the Elkhart County Symphony for "New Adventures, Brahms, & Video Games".
A Professor of Piano at Drake University, Dr. Roth holds a Doctor of Musical Arts degree from Michigan State University, Artist Diplomas in solo piano performance and art song collaboration from the Hochschule für Musik in Munich, and Master of Music and Bachelor of Music degrees from Indiana University (IU). At Indiana University, Dr. Roth also received the Jacobs School of Music's highest honors, including the Performer's Certificate and the Joseph Battista Memorial Scholarship. He has studied with Ralph Votapek, Elisso Virsaladze, Helmut Deutsch, Edward Auer, Emilio del Rosario, and Michel Block.
Next Generation
Sunday, February 6, 2022 – The Lerner Theatre – 4 p.m.
Gaze into the sonic future of Elkhart County with "Next Generation" as we welcome our guest artists, the Goshen High School Orchestra, to perform on The Lerner Theatre stage with us Sunday, February 6, 2022.
We will begin our performance with José Moncayo's Huapango and selections from Florence Price's Symphony No. 3 in C minor before Goshen High School students join us under the lights for a selection from Alexander Borodin's Symphony No. 2 in B minor.
We are honored to perform alongside these excellent student musicians and to offer them an opportunity to both learn and showcase their considerable talents as we look together to see what the future holds in our "Next Generation."
New Journeys
Sunday, November 21, 2021 – The Lerner Theatre – 4 p.m.
On Sunday, November 21, 2021, the symphony will perform with great fanfare Karel Butz's McCormick Fanfare, to be precise. The beauty, romance and intrigue of Nikoali Rimsky-Korsakov's Scheherazade rounds out this exceptional afternoon concert.
Join us for our "New Journeys" concert, the first time we will perform in The Lerner Theatre under the baton of music director Soo Han for a live audience!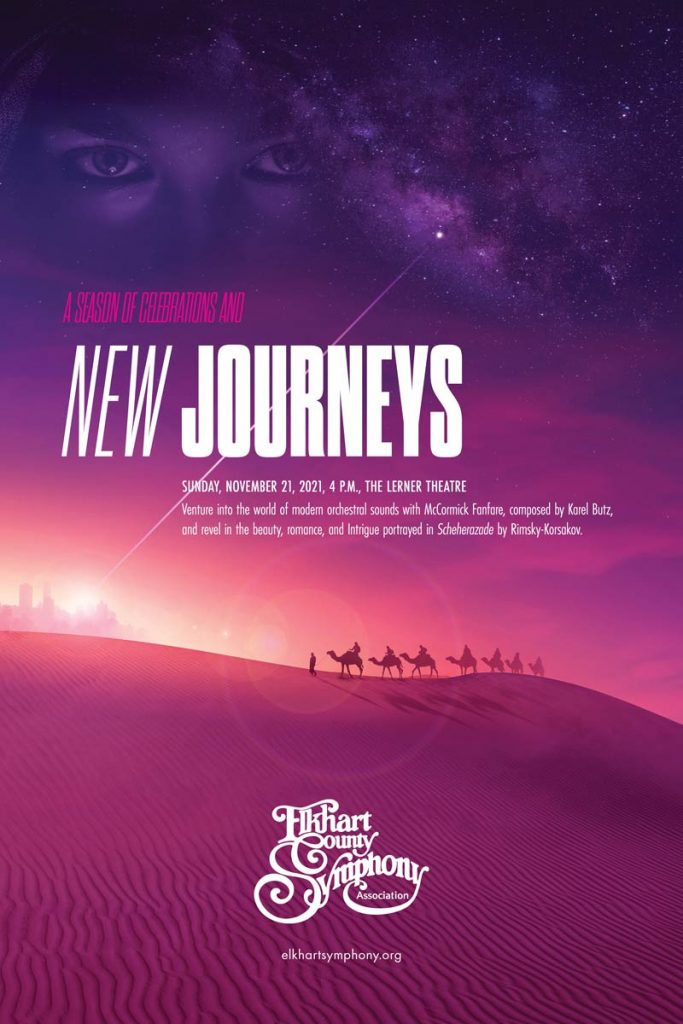 Celebrations
Sunday, September 12, 2021 – Wellfield Botanic Gardens – 4 p.m.
Enjoy selections from opera and Broadway with guest soloist Brian Major, baritone, and full orchestra performances of Gershwin's "American in Paris." Swing and Sway in the Gardens in a "Salute to the Big Bands!"