2019-2020 Season
Real People. Real Music.
Pops at the Wellfield
Sunday, September 8, 2019, 4 p.m.
Come enjoy an afternoon at the Wellfield Botanic Gardens with a concert filled with light classics and movie favorites!
The gardens will open at 2:30 with an "instrument petting zoo." The "zoo" is an opportunity for music lovers of all ages to try out a variety of musical instruments – you don't have to be a pro to play! Food and drinks will be available for purchase.
Chairs will be available under the tent, or attendees are invited to bring their own lawn chairs.
Murder Mystery Dinner
Friday, October 11, 2019 – Lex 530 – 5:30 p.m.
Come in costume for an especially spooky Symphony event!
Join us for our Murder Mystery Dinner Monster Bash. The cash bar will open at 5:30 p.m. and dinner will be served at 6 p.m., with the murder mystery following shortly after.
Come in your best Halloween costume.
Your Family, Our Family
Sunday, November 3, 2019 – The Lerner Theatre – 4 p.m.
It's all about the family!
The afternoon concert begins with Mexico's most performed piece of classical music, "Huapango" by José Pablo Moncayo, followed by a piece that every family member is sure to know.
After intermission, hear a new composition by one of America's great composers that is also a musical portrait of Maestro Groner's family. Explore the dramatic sounds of every "family" of instruments within the orchestra with Britten's "Young Person's Guide to the Orchestra."
Celebrating Music in our Schools
Sunday, January 26, 2020 – The Lerner Theatre – 4 p.m.
The symphony will be joined in a side-by-side performance of Brahms' "Hungarian Dances 5 and 6" as the Elkhart Central High School Symphony Orchestra joins the Elkhart County Symphony.
The young musicians will share stands with adult symphony members, who will serve as mentors. The concert will also feature the amazing violinist Wen Lei Gu performing Sibelius' "Violin Concerto in D minor." Gu comes to Elkhart from Lawrence University in Appleton, Wis.
The program will also include Brahms' "Academic Festival Overture" and Sibelius' "Karelia Suite."
The Three B's!!! Bach, Brahms, and Beethoven
Sunday, March 15, 2020 – The Lerner Theatre – 4 p.m.
The Lerner Theatre has canceled the remaining events for March including our Three B's concert due to public safety concerns. We are offering free ticket exchanges from this concert to our Out of This World concert on May 16. Season ticket holders can exchange their tickets for an extra ticket in order to bring a guest for Out of This World as well. Please contact our friends at the Lerner Theatre for exchanges. Thank you for your continued support!
Three pillars of classical music will be featured in this symphonic showcase! Elkhart native Nicholas Roth returns to Elkhart to perform Brahms' "Piano Concerto No. 2." Beethoven's "Symphony No. 2" and Bach's "Sheep May Safely Graze" will also be performed during the concert.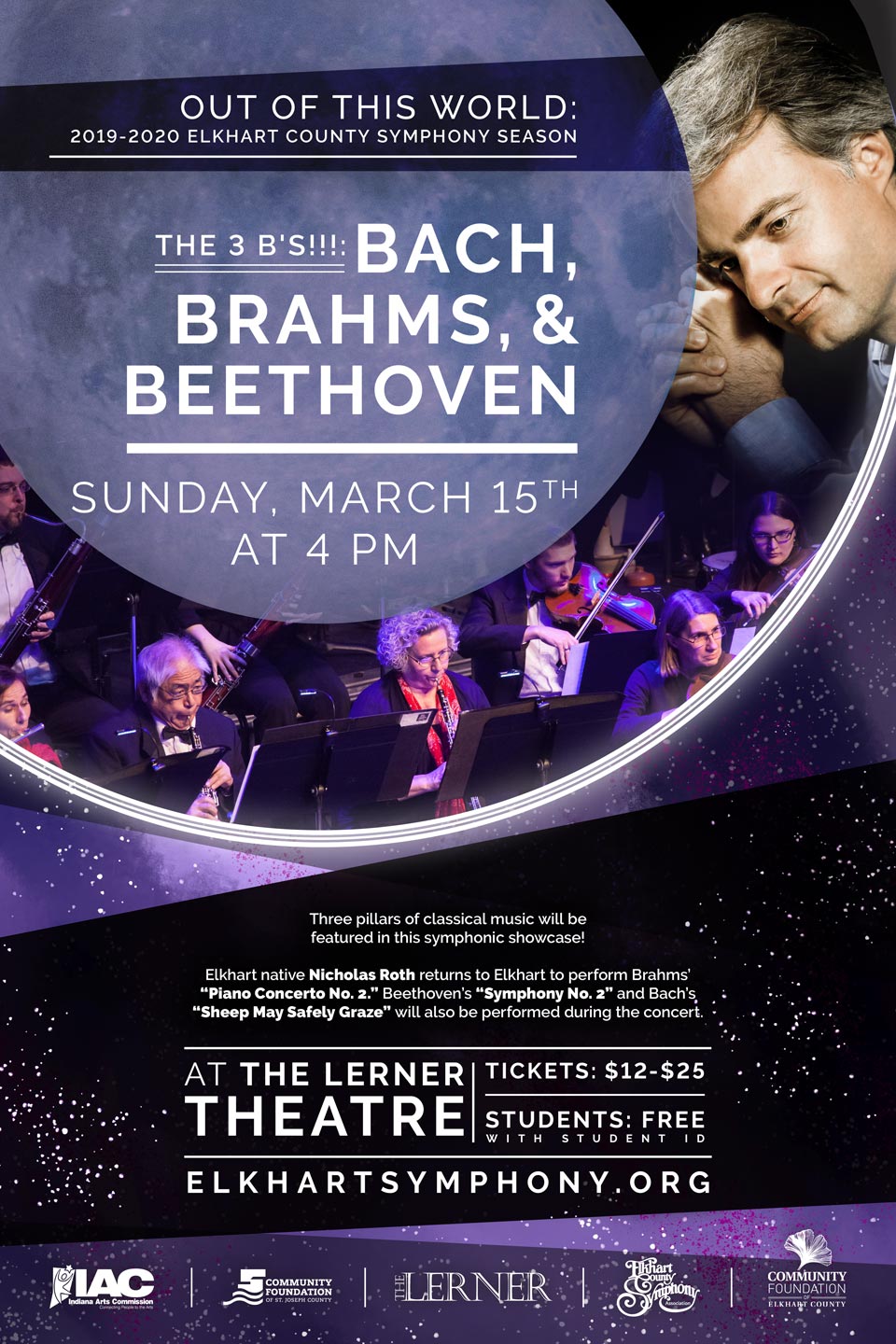 Brewfest Symphony Fundraiser
Saturday, March 8, 2020 – RV Hall of Fame – 1-4 p.m.
This 3rd Annual fundraising event for the Elkhart County Symphony will be held at a new time at the Northern Indiana Event Center. More than 20 breweries and wineries will be present, providing tastes of their favorite brews. Entertainment will be provided by 97.7 Legendary Rock and symphony musicians and local food trucks will have their specialties available for purchase.
Sponsors
Welch Packaging
Dr. Emily Stout DDS
Old National Bank
American Way Marketing
and Lochmandy Motors
Participating Breweries & Wineries
Bare Hands Brewery
Bell's Brewing
Cayman Jack
Crook and Marker
Evil Czech Brewery
Goshen Brewing Co.
Lagunitas
Leinenkugel/Blue Moon
Pabst Coffee/New Holland Dragon's Milk
South Bend Brew Werks
Studebaker Brewing Co.
Tippy Creek Winery
Truly/Truly Lemonade
Upland Brewing Co.
War Pigs
Wedgewood Brewing Co.
White Claw
Food Trucks
All Over Creations Bakery
Martin's
Ben's Soft Pretzels
Sweazy Q BBQ
Vendors
Kloset Boutique (Women's apparel)
Out of this World
Saturday, May 16, 2020 – The Lerner Theatre – 7:30 p.m.
Due to the recent developments and concerns about the COVID-19 virus, and out of an abundance of caution, The Elkhart County Symphony May 16, 2020 concert has been canceled.  We have prioritized the health and well-being of our orchestra musicians, the Lerner Theatre production staff, and our patrons in making this difficult decision.
To donate your remaining season tickets OR your single concert ticket to the Symphony you need not do anything!  The Symphony GREATLY APPRECIATES YOUR SUPPORT!
Please contact our friends at the Lerner Theatre for exchanges. Current Season Ticket holders may request a 30% discount on the total season ticket price for the 2020 – 2021 Season. Current Single Concert Ticket holders may request a 20% discount on the total season ticket price for the 2020–2021 Season.
You may also request a refund for your unused concert tickets by emailing [email protected] no later than May 10, 2020.
We want to THANK YOU for your patience and understanding!  Your Symphony wants to serve you during these challenging times AND we want to bring GREAT Symphony music to Elkhart County for a long, continuous future!
We will be making exciting announcements about how we will be doing both in the coming days.  Please stay posted to our Symphony Facebook page, our website, and local media outlets for these announcements.
Thank you for your continued support!
Join the symphony for this exciting performance of Holst's "The Planets," performed in sync with an outstanding video produced by Emmy-nominated astronomer Dr. Jose Francisco Salgado. The video includes seven high-definition short films produced to accompany performances of Holst's orchestral suite. Each of the films in this critically acclaimed work includes awe-inspiring images of the featured planet, historical illustrations, space visualizations from NASA and the European Space Agency (ESA), as well as animation by the film's director. 50 minutes